I awoke this morning feeling like hadn't rested at all. Do you ever have nights like that? The bed was a mess and I realized I'd been sleeping underneath the fitted sheet on top of the mattress pad.
The bed looked like I had been wrestling with an angel--or a demon--I know not which. But I do know that I wanted to crawl back into bed and have another go at seven to eight hours.
Alas, life this morning did not afford that opportunity. Duty calls. So do the bills. Work is necessary because I like to eat.
I arrived at my desk and glanced up at the Prayer of St. Francis. I keep copies of it available to clients who are seeking guidance in the form of prayer.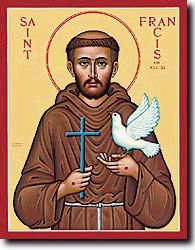 Most of us are familiar with the first lines:
Lord, make me an instrument of your peace.
Where there is hatred, let me sow love;
where there is injury, pardon;
where there is doubt, faith;
where there is despair, hope;
where there is darkness, light;
and where there is sadness, joy.
I try to live by that in my work as a helper and healer. Yet, it was the second part of the prayer that has been a gentle refrain all morning:
O Divine Master, grant that I may not so much seek to be consoled as to console;
to be understood as to understand;
to be loved as to love.
For it is in giving that we receive;
it is in pardoning that we are pardoned;
and it is in dying that we are born to eternal life. Amen.
My narcissism seeks to make it all about me: my rights, my needs, my wants, my opinions, my hurts, my pain, me, me, me.
I recognize the deep hunger of my ego will never be satisified when I hyperfocus on me. Eckhart Tolle in his teachings calls it the pain body. St. Paul called it the flesh.
I call it most annoying. But it's there, and I can't deny it.
So today I remind myself that as I give, I diminish selfishness in my life.
As I help, I receive the aid I need.
As I pardon, I receive forgivness for my wrongs.
As I seek to understand, I find empathy and understanding.
As I love, I receive the care and affection that comes from above.
As I die to me, I truly live. And then I find rest for my soul even when the sheets on the bed bespeak an alternate experience.
By the way, I did make the bed before leaving for work. A messy bed does not determine the tenor of my day. Hopefully, my ego won't either.
"By letting it go it all gets done. The world is won by those who let it go. But when you try and try, the world is beyond the winning." –Lao Tzu